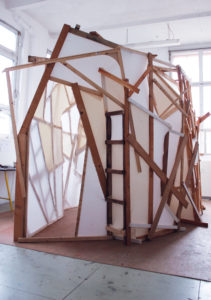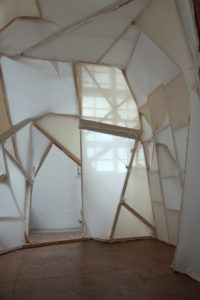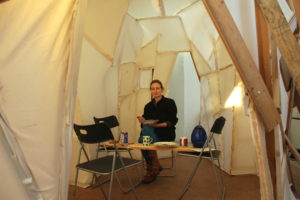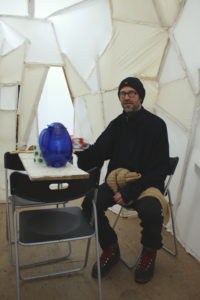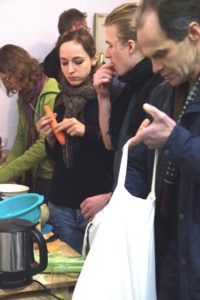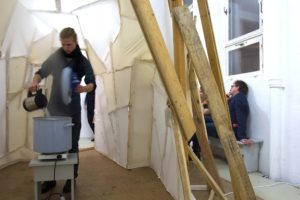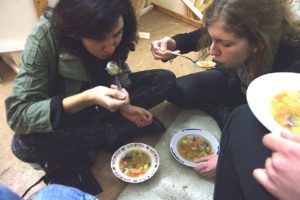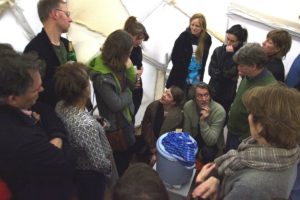 'Steinsuppe (Stone Soup)', 2015, 
A space for conversations (wood, cotton), soup
Residency project in 'Kunstfabrik am Flutgraben', Berlin. Stokroos Stipendium.
During the residency in Berlin I came to question the environment I need to develop my work. What is the relation between art and social engagement? And what is the roll of 'collaborate work' in this? In which situation does art actually take place?
How can the relation between the shared space, and solo retreat be translated into a spacial situation? Which frameworks in time and space create a possibility to make contact to others, to connect to the all day life?
I built a space. People were invited to individually visit the space, eat a soup that I cooked, and have a conversation with me. 
The conversations where based around questions like: What does it mean to work on your own? What does it mean to work together? We also discussed the 'conversation space' itself, in which we were at that moment, but also the influence of a space in general: the physical and mental relation to different 'spaces' or 'frameworks'. How do we search/find freedom of movement in the areas where we live and work? Where are the areas in which we share this movement with others? 
The project was about making new connections to other people (mostly people who also worked in the building), with focus on 'the conversation as an action'.
Twenty one-to-one conversations took place.
The project ended with a gathering in the space, where a stone soup (according to the old story) was cooked.
Stone Soup
Three wanderers are crossing the fields. The sun is going down, they're tired and hungry. On the way to a village, they see that the harvest has been taken from the land. 
When they arrive in the village, they knock on a door and ask for something to eat. 'No, we don't have anything' replies the villager, and he closes the door. At the other houses they're also rejected. Then they ask if they can at least borrow a big pot, as they intend to cook a stone soup. The wanderers look for a few big stones, fill the pot with water, make a fire and start making stock from the stones.
In the meantime the villagers observe what's happening. That is supposed to have taste? Unbelievable, that a soup made out of stones is edible. 
Someone opens his door, and approaches the wanderers holding a bunch of carrots. 'You might want to use these', he says. A neighbor thinks of the potatoes he keeps in his cellar, and how much they would improve the soup. One after the other appears from the houses, a little hesitant, but all of them bring along an ingredient for the soup. Rapidly, the pot is filling up. By now, everybody from the village has gathered at the market square and together they eat the tasty soup.